Download Fruity 1.0 (368KB - 10 May 2006)
Requires Mac OS X 10.4. It is freeware.
Instructions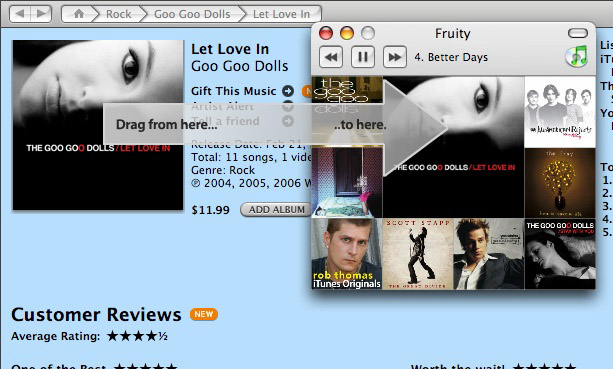 Drag (or copy and paste) any link from the iTunes Music Store to the application and it will automatically start playing. There are buttons to skip forward or back and the ability to pause. The button on the bottom right jumps you to iTunes page for the sample you are listening to.
Happy exploring!
Changes
1.0 (10 May 2006)
Volume Controls.
Added extracting artwork and sample url.
More stuff in menus.
0.3 (27 Apr 2006)
Stop playing album from being listed again as a related one.
Changed to a unified toolbar rather than ugly custom overlaid buttons.
Removed volume controls (will be added back in later)
Deals with playlists with PDFs files better.
0.2.1 (22 Apr 2006)
Threading issues (another attempt to resolve this)
Allowing some other iTunes URLs I forgot about.
0.2 (20 Apr 2006)
About
Fruity was created by Alastair Tse.